Apparently there's a superstition...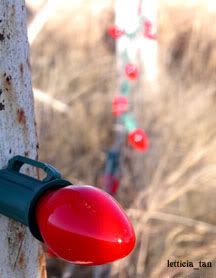 that your Christmas and Holiday
decorations
cannot still be up on the 1st of the year.. (but i thought Christmas was for 12 days! *pout* )
So, bye bye pretty little red bulbs..
I'm going to miss you and all the your friends that brought festive cheer.
Now off you go to hibernate until next year when you will shine and twinkle again....
UNLESS I GET MY WAY AND YOU LIGHT UP FOR CHINESE NEW YEAR FIRST!