I'm awful at rearing fish...
David loves cats, but I'm partial to little fishies somehow. There's just something really
Zen
( yes, there's that word again - must be the Asian genes ) about watching fish swim around and around in an aquarium.
In the past however, I've contributed to the demise of several
goldfishes
( they were gluttons! ), at least half a dozen
tiger barbs
and countless
guppies
all without even trying.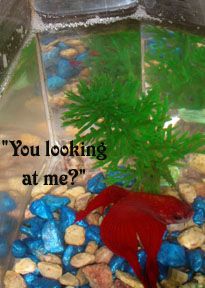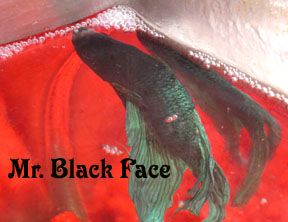 So, David got me a couple of
Betta fishes
(a.k.a. Siamese Fighting Fish - "
OMG we're related
!" ), which are supposed to be THE
fish for DUMMIES
and I'm glad to report that they've outlived any other fish i've ever had, all on their own. All I do is clean their tank, feed them and make them
flare
at each other ever so often as an outlet for any repressed machoism.
PLUS, I know they're happy with their homes cos they are making
SPIT nests
! ( er, to each his own, i guess )

TRASH UPDATE
: Still sitting there! (*@#$%$)