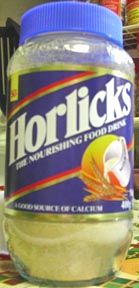 This is an actual product, I swear.
The reason I know this is because I own this bottle.
Horlicks is a rather popular drink in Malaysia, kind of like Dr. Pepper or Iced Tea over here.
I never gave its name much thought until my sister-in-law, who is from China and now resides with my brother in the states, took one look at it and burst into uncontrollable giggles.

Just make sure that while you're wondering what's so funny, don't say the name out too loud in front of your parents.... OR children.
p/s: Their website advertises that it's a wonderful pre-bedtime beverage that'll help you sleep better. Go figure.