What a freak accident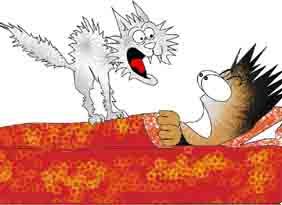 I was obliviously dreaming last night, in bed, when I was rudely awakened by something landing on my face, followed by a sharp pain on the right side of my face.

Something had spooked Tabby so bad ( a shadow in the window? ) that he had leapt from David's side of the bed to mine, and my face just so happened to be on his flee path.

It was a blur, but I remember
covering
the right side of my face and
whimpering
, and David getting some light on my face. I uncovered my face and as I looked at the
speck of blood
( well, just a little bit ) on my hand, the blood drained out of David's face when he saw me, and rushed to get the "
first aid kit
".
I now have
2 wounds
on the upper right quadrant of my face:
A laceration across the right side of my forehead
A laceration from the bridge of my nose, extending across my right eyelid and ending up by my right ear.
We quickly got some hydrogen peroxide and triple antibiotic cream on it and David had to hold me for a bit as I whimpered.
This morning when I woke and looked in the mirror for the first time, and all I could think was,
THANK GOD IT DIDN'T GET MY EYE
!
The wounds aren't that bad, although they look kinda angry cos they're on my face, but they're not
that
deep and should heal up pretty quick.
*gets out the foundation and concealer for now*