NOAA BULLETIN
HURRICANE LOCAL STATEMENT...415 PM CDT WED SEP 21 2005

...

EXTREMELY DANGEROUS CATEGORY FIVE

 HURRICANE 

RITA

 MOVING WESTWARD
ACROSS THE CENTRAL GULF OF MEXICO...



...AREAS AFFECTED...


THIS STATEMENT RECOMMENDS ACTIONS TO BE TAKEN BY RESIDENTS
ACROSS DEEP SOUTH TEXAS AND THE LOWER TEXAS COASTLINE WHICH INCLUDES THE
FOLLOWING COUNTIES: KENEDY...WILLACY...CAMERON...


BROOKS

( 

Where our other home in South Texas is 

)...AND HIDALGO COUNTIES.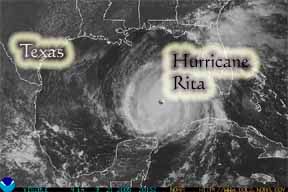 Rita, the ninth hurricane and 17th named storm of the June 1-Nov. 30 Atlantic hurricane season, was about 755 miles (1,215 kilometers) east-southeast of Corpus Christi, on the Gulf Coast. This is the first time in 10 years that Atlantic tropical storms and hurricanes, named in alphabetical order, have reached the letter ``R.''