Abilene swelters in 104-degree heat


(Our local county weather station says 107F)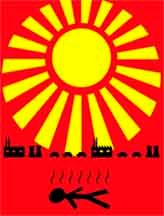 Abilene Reporter News
September 26, 2005
You would think hitting 104 degrees this late in the year would break a record.
You'd be wrong.
Sunday's 104-degree high only tied a record set for the date in 1977.
This was the fifth day temperatures went over 100 this year; the last one was July 26.
You would think that maybe this is last time Abilene hits 100 this year.
You might be right.
The forecast calls for highs only in the upper 80s today and Tuesday. However, Abilene has recorded 100-degree temperatures even in October. Abilene's latest 100-degree fall day fell in 1979 when it hit 102 on Oct. 8.
Abilene wasn't the only sweltering place in the Big Country Sunday, according to the National Weather Service. Brownwood baked at 106 degrees, Comanche cooked at 104, and Sweetwater sizzled at 100. Big Spring and Snyder simmered at only 99.