RITA IS MOVING TOWARD THE WEST-NORTHWEST NEAR 10 MPH...17 KM/HR.
A GRADUAL TURN TOWARD THE NORTHWEST IS EXPECTED DURING THE NEXT 24
HOURS. ON THIS TRACK... THE CORE OF RITA WILL BE APPROACHING THE
SOUTHWEST LOUISIANA AND THE UPPER TEXAS COAST LATE FRIDAY.
...INLAND
HURRICANE WATCH
FOR
BROOKS COUNTY
HAS BEEN
CANCELE
D...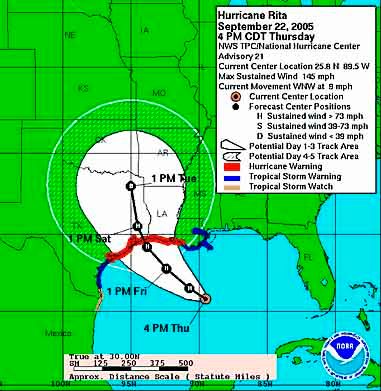 Looks like Brooks county is going to have to brace for just tropical storms right now. I pray that people who are stuck en route getting out of the affected areas manage to do so safely