*spooky voice* Tag Time (HEHE)
Okay, I've been tagged by the puking pumpkin via
ashley
and now I'm tagging 2 others....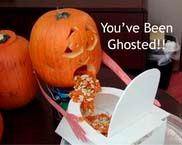 Here's the instructions :
Stop by their blogs and leave a comment on their latest post saying, "You've Just Been Ghosted -- Come Over And Grab A Puking Pumpkin!"
Copy and paste the puking pumpkin somewhere on your blog (either in a post or on your sidebar, perhaps) so that everyone can see that you have been "ghosted" and will not "ghost" you again. This will also let you know who you can "ghost."
Link to this post (or a post of your own) for directions, grab the puking pumpkin and go "ghost" 2 bloggers on your sidebar (preferably, somewhere you haven't commented in a while or a blog you've never commented before or new to the blogosphere) and share some linky love!