David had to go to the post office today.
Why?
Because there was a
little note
in our
mail box
that said that we had
4 packages
which, because (
apparently
) we
did not hear
the mail person (
have to use genderless speech here, coz sometimes it's a mailman and sometimes it's a mailwoman -- er, is there even such a word
) knock on our door at
8.00 A.M
. , we had to now
travel
into town (
it's only 6 miles to the edge of town, but still!
) to get our packages.
That was
too weird
because of several things..
1. Our mailperson
NEVER
comes at 8.00 A.M. (
11.30 a.m
. sounds about right )
2. She almost
ALWAYS
leaves the packages by the door - she knows us well enough by now - if we're not home or don't answer the door for some reason and even if it's with delivery confirmation. The
only time
she wouldn't leave it would be when it needed a
signature
.
3.
None
of the packages that were retrieved at the post office
required a signature
.
4.
Yada yada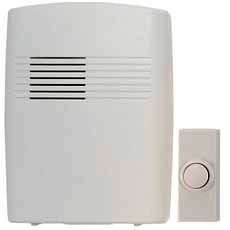 So, while David was out, he stopped by
Walmart
and got us a
Door Chime/Bell
. It would never have occured to me to do that, only because I had
neve
r lived in a house that HAD a doorbell back in Malaysia.
After I moved to the States, because lifestyles and habits are quite different between the two countries, sometimes I would think up things which David would not have thought of ( rare occasions ) but most of the time, things happen around me that require solutions that I would NEVER have thought of, just because I did not have those things around me when I was back in Malaysia.
Like last winter - I didn't think of wool caps or gloves till it got cold and I was freezing ( well, maybe not FREEZING, but close ) my ears and fingers off.... in the house! ( hey, I was acclimatizing )
Well, we live and we learn.
Now if only our doorbell wouldn't give us a heart attack jolting us out of bed.