Phil Says Six More Weeks of Winter!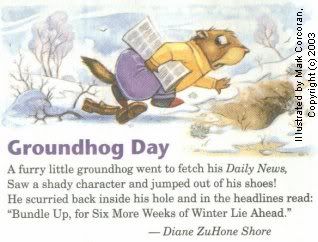 Phil's official forecast as read 2/2/06 at sunrise at Gobbler's Knob:
It is said that imitation is the sincerest form of flattery.
Around the country there are many imitators of me.
In Harrisburg there is Gus who appears on TV
working for the lottery.
Then all around town,
Cute groundhog statues abound.
They all look like me, I found.
Today on the Knob as I'm doing my job,
I don't like this likeness of me.
It's my shadow I see. Six more weeks of mild winter there will be
.
A traditional festival celebrated in the
USA
and
Canada
on
February 2.
Tradition states that one must
observe a groundhog's burrow
on this day. If the groundhog emerges and
fails to see its shadow
because the weather is
cloudy
,
winter
will
soon end
;
However, if the groundhog
sees its shadow
because the
weather is bright and clear
, it will be frightened and run back into its hole, and the
winter will continue
for six more weeks.