It was scary
We had been anticipating this
storm
all day, and at about 6 p.m. or so, these really huge black
clouds
started rolling our way and they started
CHURNING
!
If I hadn't seen it with my very own eyes, I would have said it was on
time lapse video
or something, but the clouds seemed to have
turned on their sides
and were
rolling into themselves
as if they were trying to
form a tornado
overhead.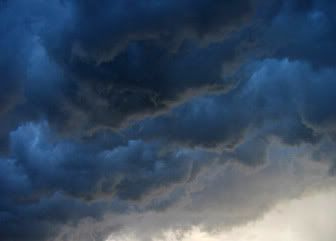 Then it started raining and the clouds rolled on by...
PHEW!! Thank God.