I'm getting more domesticated ( Part ?? )
I used a
lawnmower
for the first time ever last week, to trim our
front lawn
- I told David to show me the ropes because every girl wants her house to NOT be some "
Curb Non-Appeal Disaster
", and we usually let it get too long before something is done to it.
So we revved up the trusty lawn mower and I mowed to my heart's content. It was wonderful to see the grass cut
short and even
, with all the weeds that had shown in between just crushed in the blink of an eye, and oh, the
smell of freshly cut grass
....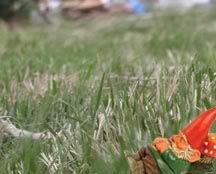 Anyway, from all the downpour and fertilizer that david had put down (
our lawn's only a year old, but was already getting some baldy patches
), it has shot up like crazy again....
Well, I'll probably let it grow another week or so before I venture to mow it down again.