I had woken up, not having slept well the night before..
I had a sore throat that had kept me up, as well as acid reflux, so I was not in the best of moods when I got up to get ready for Bible Class at Denecia's, but after a hot shower and some Ibuprofen, things got better. Here's a recap of the day. Lotsa pictures were taken yesterday, and there are links to the individual pages because I did not want to bog down the page loading time with lots of pictures on here.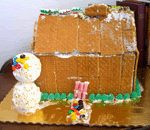 We never had gingerbread houses in Malaysia, except for in the Hansel and Gretel story, Grimm ( pun very much intended ) story though that may be. So,
click on the little Graham Cracker House
for some pictures of houses made by Denecia's precious little granddaughters.
Maria, also from Bible Class, had an open house and Christmas Sale of items that she had handcrafted and hand painted. Cindy and I have been to her house several times, and it is a beautifully re
stored old house with so many quaint and warm nooks. She also serves warm apple cider and it's just magical as you walk around her house, enveloped by smells of cinnamon and spices and with soft Tingstad and Rumbel music in the background.
Click on the little whip cream snow man
for more pictures from Maria's house.
When I got home, David whisked me off to visit our neighbor, Mr. Clemmer, who owns a masonry business here in Abilene. He is about 80 years old, still strong and feisty, and has quite a number of land lots scattered around the few neighboring counties. We followed him to 2 of his farms out where the windmills were, and even helped him feed his cows!
Click on the windmill
for more windmill pictures.
Click on David
scattering feed for more cow-feeding pictures.
Click on the little tombstone
for more pictures of memories of days long past.