It had been so hard ( no pun intended )
to try and swallow anything other than soup and slippery wontons (
oo yummy!
) for a while now, that when the pain i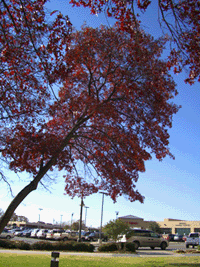 n my throat started letting up 2 days ago, I was wild with joy. On Friday, there was still a hint of the dreaded tonsillitis, but I only had to take acetominophen once all day. And yesterday, I didn't even have to take any! Ah, the wonders of antibiotics...
Friday was once again bible class followed by "Girls' Day Out" with Cindy. We visited Avis, a 89 year old friend of ours, who had been hospitalized, and she was as feisty as ever, and SHE was teasing ME
incessantly, and in such good spirits. At the hospital, I couldn't resist photographing some of the foliage that was still red from it being late late late Fall - well, officially, there's still about 4 days of Fall left. Which is kind of hard to believe since the high for today was 78F and we even had to turn the air conditioner on! Bleh!
Back to the throat non-situation. I immediately suggested Asian Noodle House for lunch, where I ordered a favorite of mine in Malaysia,
Char Kuay Teow
(
or, as it was called at the restaurant, Lou Cha, it being a
Cambodian/Asian
restaurant after all
), while Cindy had the Fried Rice on the Kids' Menu, which turned out to be almost too much even for an adult! We ended up having to get doggy bags.
Simply Divine....

p/s: Yes, Darla, I'm still taking pictures of my food. Heheh