from Taco Tuesday.
I just don't know if I can do Mexican fast food once a week much longer without tearing some hair out. And I don't have that much hair to spare.
Which was why I jumped right into "instigating" everyone to go to the free

H.E.B. "Feast for Sharing Holiday Dinner

" when I found out it was on a Tuesday. Well, not really, but that it fell on a Tuesday was pretty nifty, for my purposes.
H.E.B. is a grocery chain in Texas, which has since expanded to Mexico. The first annual "Feast for Sharing" dinner in Abilene was held last year, ( which we also went to ), even though it had been serving free holiday dinners annually in various cities in Texas since 1989. It was initially started to target the needy and has since turned into a huge community event, with live music, exhibition stalls by community service organizations, and a children's area with activities and visiting with Santa.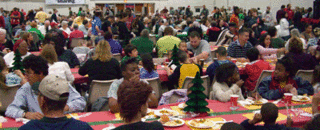 Last year in Abilene, 5250 people were fed and tonight's projection is 7500. From what we could see, they certainly did not underestimate the number of people who would attend.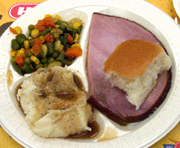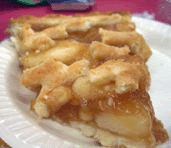 Good food, good family and community time, happy memories and thoughts of Thanksgiving on how blessed we truly are.