During the Ice Storm recently, (updated 1/18/07)
the
local Fox affiliate
's (KXVA) broadcast was interrupted 5 minutes into the Season Premiere of "
24
". Since we had waited since almost the middle of last year (
I think
) to watch the new season, we were not too pleased.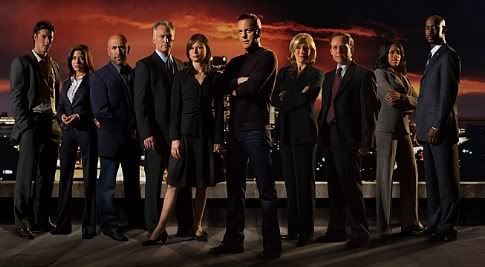 This
was posted on their website:
We are aware that due to the ice storm that hit the Abilene area on Sunday night, the Season Premiere of 24 was not able to be viewed at many households in the Abilene area. This was not anything that we had control over.The problem was with AEP, our electric power provider.We apologize for the inconvenience and are working with the FOX network to try to bring that episode to Air as soon as possible.
When they finally got back on the air, the 2 hour premiere was
over
, and we were left wondering if there would be a chance for us to watch it before the next 2 hours, which was the next day, a Monday. ( They were doing a 4 hour premiere package thing over 2 days )
Monday came and we decided that we would forfeit watching the next 2 hours since we had NO clue what had happened in the first 2 hours, and decided to watch the Golden Globes instead.
At least they didn't lose a broadcast tower, like the local NBC affiliate,
KRBC
, which had gone off the air shortly before 8 pm, and David didn't get to see the season premiere of Crossing Jordan. Needless to say he was not happy. And they didn't get back on the air till about 12:30 p.m. the next day.
KRBC/NBC Abilene Tower after the mighty crash: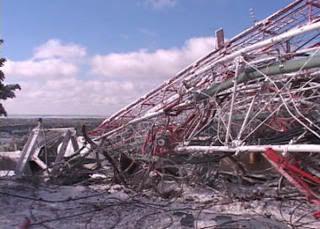 (Photo taken from KRBC website)
ANYHOW
, yesterday, I managed to find the first 4 episodes of "24" Season 6, the exact ones that we had missed, online at
PeekVid.com
, and so David and I had a "24" marathon last night, watching all of them from his widescreen laptop, comfy and warm in our matching recliners till almost 4 in the morning. Hehe.
Oh, and it was snowing outside when we finally finished watching the 4 episodes, and what did I do? Stand outside and catch snowflakes on my tongue, of course!!


update

: In the Abilene Reporter News today:


NOAA transmitter goes out
Today's Talker
January 18, 2007
Here's today's lesson in irony: When the ice-caked 500-foot KRBC-TV broadcast tower collapsed during Sunday's wintry blast, it also took out the National Weather Service's transmitter - meaning your little battery-operated weather radio that warns you about nasty storms is about useless for now.
''It might take a couple of weeks for complete repairs,'' said KRBC and KTAB-TV news director Tom Vodak.
People can still get weather information from TV, radio, www.reporter-news.com and the Abilene Reporter-News, but not with their weather-dedicated radios.
- Ken Ellsworth