Man, I keep walking into all these titles...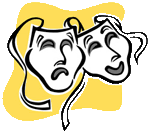 Like Grandma and Great Aunt. ( re:
I am now a grandma from the last post
)
When I married David, I found myself an aunt and great aunt instantly. Some of my "nieces" are even a little older than I am :) It's kinda weird but fun being a "baby-aunt". LOL.
ANYWAY,
Tyler's
one of the nieces' ( Sabrina - re:
We went to Munday on Sunday
) son and since the family moved to Munday, he has been involved in ALL sorts of school activities, the latest one being in a
one act play
, where his team has progressed all the way to the State UIL (
University Interscholastic League
) Academic League in Austin this week/weekend. Tyler's usually pretty shy, so this is such a wonderful thing for him. Yay Tyler!
I won't be a bad great-aunt and post his picture on here, heheh, but here is the newspaper article in the Abilene Reporter News on Sunday (
with Tyler's picture on the front page!
) and a link to his profile
HERE
.
State Bound in UIL
Heather Wilson, 18, makes up stories at Jayton High School every day. There was the one about a shark attacking a local teenager. Another story she concocted was about a local step-dancing group appearing on MTV.
Rather than landing Heather in hot water, her fictional stories are helping prepare her for the largest academic contest in Texas. She is among 138 students from the Big Country who are competing at the University Interscholastic League's state academic meet in events ranging from feature writing to accounting.
(Meet Heather Wilson and the other 137 contestants in our online blog. We feature a Q&A with each student, and comments are welcome.)
The meet starts Thursday and ends Saturday at the University of Texas in Austin.
Students make it to state by placing at the local, district and regional levels. Once they get to state, they can earn scholarships, letter jackets and glory for their schools. ''We take it very seriously. It's a big part of our school,'' said Heather, whose school is 84 miles northwest of Abilene.
The school is trying to rebuild its once strong UIL program, said Jodie Reel, Jayton's UIL coordinator. This year, the school is sending six students and three alternates to state. Not bad considering Jayton High has only about 50 kids. ''I'm incredibly competitive. I really like to win,'' Reel said.
To have a good UIL program, a school needs dedicated teachers and students willing to work hard and as a team, he said. Students must be willing to attend practice meets throughout the year and practice at school almost daily starting in January.
''As we have more success, kids are willing to step out of their comfort zone and consider some things,'' Reel said.
Heather takes a class set aside just to practice for UIL contests. She competes in feature writing. To practice, she uses prompts from past UIL contests. She writes a sample story and her teacher edits it.
''We would just practice all the time,'' Heather said.
She likes competing in feature writing because she plans to be an English teacher someday.
''It gives me an opportunity to be more creative in what I do and I really enjoy the competition. It gives me something to do other than athletics,'' said Heather, who participates in basketball, cross country and track.
This is the first year Heather has advanced to the state contest, and she admits she's a little nervous about the big competition, which will draw 2,000-3,000 students. ''It will be completely new and different for me,'' she said.
State academic meet
The University Interscholastic League classifies schools based on enrollment from 5A (the largest schools) to 1A (the smallest).

Academic competitions include contests in writing, acting, science and other disciplines.

Students compete at the district level, then advance to the regional level. Students who place in the top three at regional contests advance to the state contest in Austin.

See our UIL blog at: http://blogs.scripps.com/abil/uil/

Copy editor: Beverly Butman; Editor: Brien Murphy
"For I know the plans I have for you,"declares the Lord, "plans to
prosper you and not to harm you,plans to give you hope and a future."
Jeremiah 29:11