I don't have a big kitchen
and have just the most pitiful of counter spaces for food preparation. I often have to put the cutting board over the sink to have extra space. Which is why, when our old old microwaveable food cover partially died, and I had to order a new one, it didn't take me long to decide on the Tovolo Microwave Collapsible Food Cover.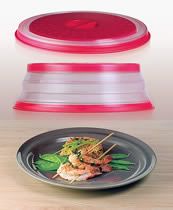 It came in the mail yesterday, and it stores away so conveniently on the top of the microwave without taking up much space.
Happy Happy Joy Joy.