We were/are part of the "Historic Winter Storm of 2011"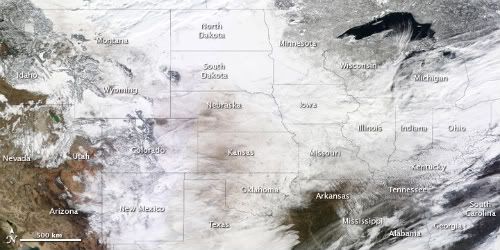 At least that's what
NASA calls it
- and seeing how it swept over 30 (+ ) states and has affected over
100 million Americans
, I don't blame them.
Since the storm hit late Monday evening/night, we've been pretty much stuck at home.
The ominous clouds rolled in late Monday evening, and the grocery stores were packed and the traffic was crazy!
The weather outside is just unbelievable.
We have been having highs in the teens and lows in the single digits - and that's before you add in the wind chill, which makes it go into the minuses.
Snow is fluffy and pretty, and winter weather is a nice break from all that Texas heat, but put them all together, and things can get PRETTY dicey and problematic.
Our plumbing encountered some of the aforementioned problems, and so we have been without water in the house for a number of days now. How do I get by? Well, we have snow snow and more snow!
We have pretty much been at home since Monday evening ( It's Friday night ), and methinks the boy has a touch of cabin fever.
It's been too cold and icy to let Jaxon go out and play or for photo ops, so I got him a bucket of snow to play with, indoors.
Never fear, the forecast for tomorrow says 47 F, which means we just may be able to make it to see Grandad in the afternoon yet!