Since I got all the photographs sorted out and collaged, I thought I would just put all of these into one post.
The Saturday before Halloween, we first went over to the St John's Episcopal School Fall Festival/Halloween event, where the little boy had such a grand time playing at all the booths. We arrived close to when the event was scheduled to be over, and so it was not crowded and hardly any wait at all the booths.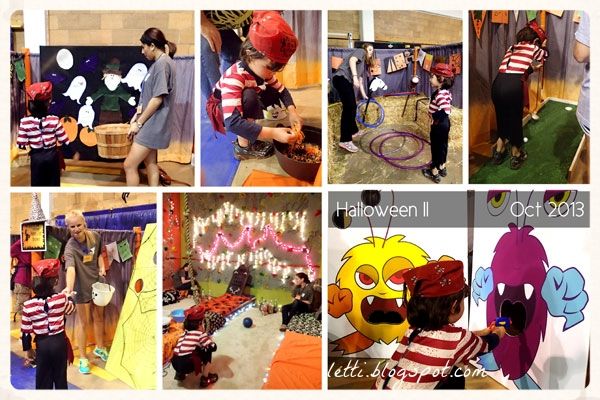 We then drove over to Oakridge Church of Christ, where they also had all kinds of different activities for the little boy. He got his face painted for the very first time ever, and when the guy asked what he wanted painted on his cheek, he said, "A Pumpkin!" without any hesitation.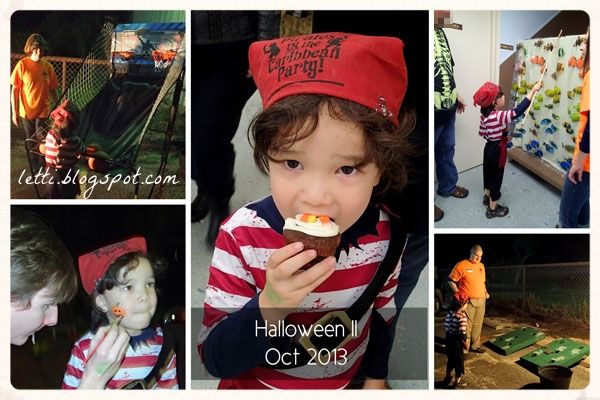 And of course, hung out at Starbucks for a bit before heading home. :)
On Halloween Eve, we made the rounds downtown, with the biggest crowd being at the First Baptist Church's compound, where they had Bouncy Castles and Train Rides. Every car that was participating in the Trunk or Treat had a line of at least 20 people waiting to play a game and THEN get some candy. The hubs and I had NO intention of doing that there, and so we walked over to several other churches which were in a 2 block radius there for humbler but just as enjoyable Trunk or Treating (
and with no lines/queues either
).
Last but not least, we went to Hillcrest for Trunk or Treating on Halloween evening. The little boy loved doing all the little games that were prepared, and even joined in "Cupcake Walk" and ending up with a super delicious cupcake a few minutes later.
All in all, we used the heck out of that costume, and the little boy had a grand time, experiencing Halloween over 2 weeks or so, at so many different venues.
Now if only we could have Christmas stretched out like that as well, I would be over the moon :)