aka "Good Grief It Has Been Two Weeks And I Am Not Done AND There Is One More After This"
The last trunk or treat for the season was at Hillcrest's parking lot.
We were early this year. Usually there would have been a long line ahead of us, but this time, we were at the FRONT(ish) of the line!
As usual, the funnest thing for me was trying to figure out what the kids/grownups were dressed up as :)
This year, there were still a bunch of Elsas :) She's turning out to be quite a classic.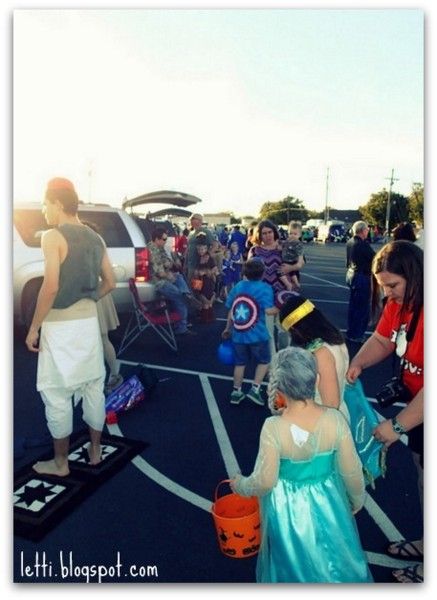 I thought this FBI/Area 51 car was really cool. Last year they had a Star Wars theme going.
The Pettijohns' car was super cute too :)
And this steam punky cowboy getup certainly caught my eye as well.
After the round of Trunk of Treats, we hopped onto the trailer for a hay ride around the church building.
Our church had been searching for a new preacher for a long long time, and finally found Nathan Burrow. That's him sitting in the dunking booth. BEFORE he has been formally introduced to the congregation or his first sermon even.
Baptism by dunking.
Most awesome costume of the night ( other than the little boy's Luke, obviously ) - Bobba Fett.
Inside the Multi Purpose Room, there were bouncy castles for the very first time in the history of Hillcrest's Trunk or Treat extravaganzas.
The little boy made a bee line for them :)
THIS particular bouncy castle got a little rowdy as kids came through one end and refused to leave through the other. My "tiger mom"edness reared its feline head and asked the kids to move along.
There weren't that many game stations this year, as can expected, what with all that space taken up.
This batman kid has to be commended for diligently putting together the pins very nicely each time someone knocked them down.
I'll have to give some lessons on The Proper Way to Hold Sticks, Bats, and the Like.
Holding fishing poles and casting lines didn't need coaching, though.
Then, there was the famous Cake Walk.
The little boy was a very good sport because it seemed like it took forever for his number to be called.
He finally got to get his cupcake though :) Hurray!