David was mowing the overgrown "jungle"...
that's next to our house, yesterday when suddenly he went all
pale
, stopped the mower and went
"
AARRGGHHH!!!! I KILLED A BABY RABBIT
!!!!!"
I rushed to the "
crime scene
" to see that while mowing the thick underbrushes, he had uncovered a
rabbit's nest
with
5 or 6 little cottontail babies
wriggling around inside.
ONE
had flopped out and writhing about (
the one David has apparently

"killed"
).
We
immediately
called up his niece, who's brilliant and knows these things, and she said to cover up the nest with some grass coz the
mother usually feeds
them twice a day - right before
dawn
, and at
dusk
...and she might
not abandon
them as yet. We WERE worried about their momma leaving them,
( but we've seen her last night and this morning lurking around the nest, so we know she's still around ),
but the
sun is just sooo unrelenting
that we were afraid they might get
overheated
and die of
dehydration / sun exposure
.
ANYWAY, the little one that had flopped out, tried to "
escape
" this morning - I wonder if it was a
concussion causing it to hallucinate
(
David swore he must have whacked it with some part of the mower
) or whatever, but we brought it into the house, tried to call the
zoo
, the
vet
, and any other
animal shelter
we could think of, to no avail.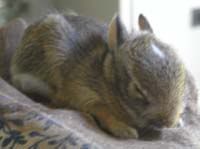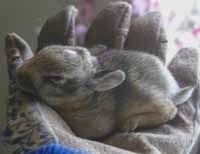 So, now
"Peter"
Cottontail is in a box in my room, far from the clutches of
TABBY
, hopefully
recuperating
while we go out today and get some
kitty formula milk
replacement for it.
We would rather it was out there with the other babies, but we'll play it by ear for now and keep watching out for
Momma Cottontail
.

UPDATE : Peter didn't make it.............*sigh*