The Cold Front is Here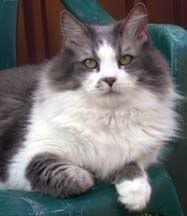 David made me wake him up at 6 am today.
You read that right
..... SIX freakin' A.M.
!
Well, it was all good coz Mr. No Tail was at the Vet's for surgery on his ear ( he had popped a vein in his ear, scratching it, and the ear had swelled all the way up ), and he is David's favourite cat, so it was understandable he was very anxious about it.
ANYWAY, he came into the house after coming home from the Vet's and said "
Honey, you

GOTTA

come out and see this
". So I trudged off to get a robe (
stole David's
) and grumpily walked outside to see what the big deal was.I took one look outside, went "
EEEEEEKKKK!!!!
", and ran inside to get my camera.
It was the cold front .....