We finally got out of the house today.

After all, it WAS Taco Tuesday, where everyone in the family gets together for a meal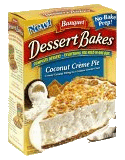 at
Rosa's Cafe and Tortilla Factory
. So, we bundled up to be warm in the below freezing temperatures and thanked the Lord that the car started without a hitch. Today, David's cousins, the Garrett twins, and their spouses, were there too, so it was quite merry.
I even made a dessert ( albeit from a box ) -
Coconut Creme Pie
, which everyone enjoyed.
We noticed on the way home that
Walmart's
parking lot was totally packed - we're surmising that since today was the first day the roads were safer to travel on, that people were out stocking up. Good idea - we were too..