Having a headache right now ... but on to happier stuff
Last week, David and I brought Cherryl to
Albany
( our county seat ) for dinner at their very famous
Beehive Restaurant
(
Fort Griffin General Merchandise
) for her birthday. The Restaurant/Steakhouse was named one of the Top 10 Best Small Town Steak Houses in Texas by
Texas Monthly
Magazine. Heck, it's even got some
gaming RPG
thing going on! It was great, and I had some lamb, which I hadn't had in 10 years.. The taste/smell wasn't as strong as I had remembered, and it was quite good, actually.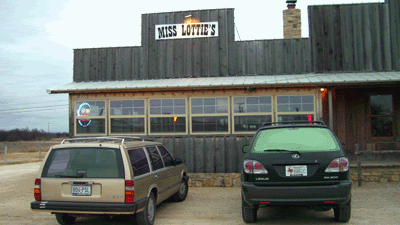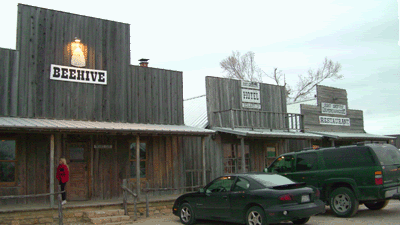 The facade of the restaurant is that of an old time cowboy saloon early frontier type thing, and the inside is all wood floors/walls, so it was pretty neat. They're supposed to be opening a branch of their steakhouse in downtown abilene real soon ( from what we heard ) which would be a good thing coz david's dad loves the place.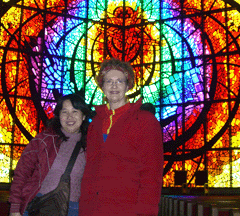 On Girls' Day out on Friday, Cindy and I brought along Elaine, who had come to Abilene for a month from Taiwan for a vaction as well as diving into learning the English Language. Brave girl! We brought her to the Asian Noodle House for lunch and to the Hardin Simmons Chapel where David and I got married, to show her the beautiful stained glass WALL

Also, I had been cooking pizza and buffalo wings for dinner the past 2 days - what with superbowl season and all, and so now david has boy food leftovers for late night snacks. YAY! Ooo.. i have to remind him there's also turkey burgers that I grilled, that are in the freezer section.....

Superbowl XLI
players from Abilene
or with Abilene connections :
Indianapolis Colts:
Running Back
Dominic Rhodes
( former
Cooper Cougars
)
Long Snapper
Justin Snow
( former Cooper Cougars )
Chicago Bears
Strong Safety Danieal Manning ( formerly from Abilene Christian Uni )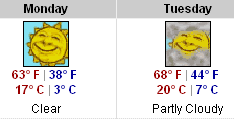 Last but not least, the last 2 days have been pretty mild, and it looks like it's going to be pretty mild for another few days before another icy blast comes along. If only if could always be sunny days with a temperature of 68 - 72F, then it would be perfect.
"God can pour on the blessings in astonishing ways so that you're ready for anything and everything, more than just ready to do what needs to be done."
(2 Corinthians 9:8)