while Cindy was in Africa, David would bring me and Jaxon to bible class at my FIL's house. The boys would hang out and talk, and sometimes when Jaxon fussed, I would bring him into the class with me, where there would be no shortage of "aunts" wanting to hold him.
ANYWAY, now that Cindy is home, she comes by and brings Jaxon and me to my FIL ( HER dad )'s house for class. The last two weeks have been so much less stressful during our Friday runs. For one thing, Cindy is amazing with Jaxon. For another, we would stopp by Judith's, my SIL and Cindy's older sister, where we could relax, I could nurse a bit etc. And now that he doesn't need to feed every 2 hourly, and his naps are kind of predictable, it is easier to be out and about with the bub. I've even got to eat at George's, my favorite noodle place!
ANYWAY, all this was leading up to some pics of the bubs with his grandad and aunts, taken a couple of weeks ago.
Jaxon with Grandad
in a t-shirt that says
"Vroom vroom, off to Grandpa's!"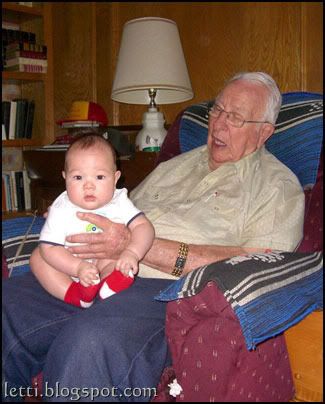 Jaxon with Aunt Cindy
Jaxon with Aunt Judy aka Mamo
Asleep in Stroller at George's Noodle House while mommy and Aunt Cindy play Upwords.