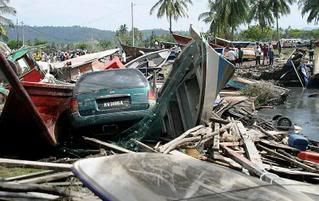 Malaysia
was not spared. I couldn't get my family on the phone cos they were at work etc. Thank God their state was not hit by tsunamis as it was buffered by the Indonesian island of Sumatra. My mom's family however, is in Penang where the
tidal waves
hit worst. I will try calling again in a few hours.
4 hours later : UPDATE
Got my family on the phone and everyone's safe..my mom got hold of HER family in Penang and everyone's safe there too..my aunt and cousin even witnessed the
tidal wave
from a nearby hotel window!*phew* *silent prayer*
The postman rang at their end while i was on the line with them AND THEIR PRESENTS ARRIVED!!! YIPPEEEE!!!!!!!