and man, that term can get quite confusing.
Why?
Biscuits (

American

) are Scones (

British )

Biscuits (

British - often crispy and dry

) are ALSO Cookies (

American - and often soft and chewy

)
In
American
English "biscuit" means a form of
bread
similar to a
roll
made with baking powder or baking soda as a rising agent rather than yeast, usually served as a side dish to a main meal or a breakfast item.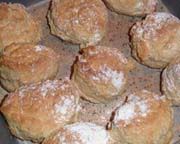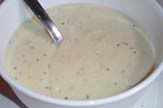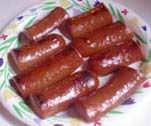 In
British
English a biscuit is a
harder baked product
which in North America would be called a "cookie" or "cracker". Both sweet and savoury exist, where sweet biscuits are commonly eaten as a snack and may contain chocolate, fruit, jam or nuts. Savoury biscuits are plainer and commonly eaten with cheese following a meal ( not AS a meal ).
( from watching Sesame Street over the years, I thought that cookies were special biscuits! )
In the States, Biscuits are served with
Gravy
along with chunks of
sausage
, and is quite a food of the South. Traditionally, a lot of
grease and fat
goes into making the gravy and biscuits, but I've
omitted
all of that (
yuck
) and use
NO-FAT
gravy and the
wholegrain
flour mix. They can also be eaten with..
Jelly (

American

) aka Jam (

British

) or
Jam (

American

) aka Marmalade (

British

)
not to be mistaken with the British Jelly ( American Jell-O )