We're having a "wind advisory" right now.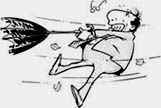 The wind howled and blew yesterday and all night...and we're expecting MORE today.
Several times while bringing Henry out, I had to cling on to the door knob or risk being jerked off my feet and off the "porch", falling and breaking my neck!

I had to spend part of the day cleaning up the yard because of all the bits of litter that were blown in from goodness knows where, and the poor plants that David had recently planted are now traumatised...not to mention all the dust in the air! Even Henry would quickly pee and drag me back into the house.

NATIONAL WEATHER SERVICE
308 AM CDT WED APR 6 2005
...
WIND ADVISORY
IN EFFECT FROM
7 AM
THIS MORNING TO
8 PM
CDT THIS
EVENING...
SUSTAINED WINDS
IN
EXCESS OF 30 MPH
WILL BE POSSIBLE OVER PORTIONS OF THE BIGCOUNTRY WITH
GUSTS
IN EXCESS OF
45 MPH
.
A WIND ADVISORY IS ISSUED WHEN SUSTAINED WINDS ARE FORECAST TO BE 31
TO 39 MPH OR GUSTS WILL RANGE BETWEEN 46 AND 57 MPH. WINDS OF THESE
MAGNITUDES MAY CAUSE
MINOR PROPERTY
DAMAGE WITHOUT EXTRA PRECAUTIONS. MOTORISTS IN HIGH PROFILE VEHICLES SHOULD USE CAUTION UNTIL THE WINDS SUBSIDE.
Needless to say, I'm going to have to start picking up scraps of litter all over our 5 acres again today.
Well, I should be Thankful it wasn't any worse or that we didn't have a DUST STORM!