Malaysia is soccer crazy...
However
, I've never been a fan of the game. ( aka "
football
" in Malaysia ).
BUT
, my junior bridesmaid,
Holly
(

picture on the left

)
plays soccer and yesterday, after some shopping with the "girls", all of us went to give her some moral support at a match. It was quite fun to watch the little kiddies in their bright uniforms giving their all...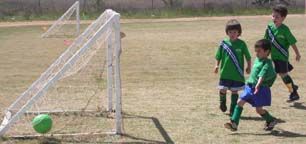 It was at an immense complex offering 11 soccer fields:
seven regulation fields,
one international field, and
three youth fields.
The complex also includes a retail soccer shop, full-service concession stand, team dressing rooms and parking for 600 vehicles. (!!!)