Last year, our Christmas presents arrived in Malaysia
a day or two
late
.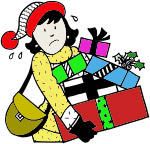 This year
, we're trying to make sure they get there
in time
, so off they went via the *crossing-my-fingers* US Postal Service
last Friday
.... and oughta be there in
a couple of weeks
!
Hurrah! Just wish that
shipping
wasn't that
atrocious
though...*sigh* We may have to ship Christmas off in
OCTOBER
next year
..hehe..
SEASON'S GREETINGS EVERYONE!