Let's usher in the Year of the Dog with a Bang!

As legend goes, a terrible monster called
Nian
( meaning "year" in Chinese ) terrorized chinese villages yearly. So the elders devised a plan to scare the monster away. They passed out drums and brass gongs to children and told them to
make as much noise
as possible to alert the villagers when the monster approached.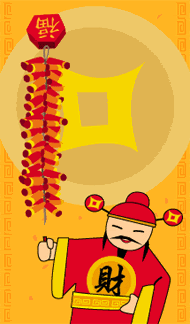 The women created a
lion costume
of
brightly colored
silk with
shiny mirrors
to distract Nian. The costume is large enough to accommodate two men, one standing on the shoulders of the other. When Nian arrived, villagers
threw firecrackers
and the
lion dancers jumped
up and roared at the beast to scare him off.
So, nowadays, Chinese Lion Dancers would dance during the New Year accompanied by loud firecrackers, to the beat of Chinese Drums to usher in the New Year..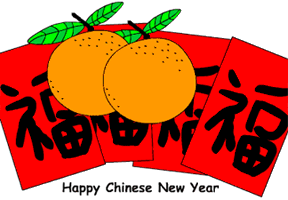 Another tradition is that children and unmarried friends, as well as close relatives are given lai see, little red envelopes with crisp one dollar bills inserted, for good fortune.
We're having Sunday lunch with David's family and after hearing all this talk about red packets from me, I'm sure there'll be some asking coyly for one..hehe