Tomorrow's Chinese New Year
and although the CNY is celebrated for 15 days (yippee!!), the new year's eve is especially poignant because every family member is supposed to come home to the parents' and have a new year's eve reunion dinner together. Those working and studying in other states would make a trip back home in time for dinner.

I still remember all those years while I was at the university ( that would be around 9 years in all ), where I would have to catch a plane or long distance bus back home or even drive 8 hours when I was working as an intern in another state, and several times, dinner had already started by the time I managed to get home.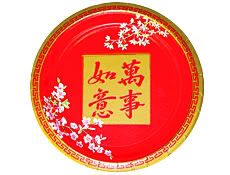 This would be the third year I would be missing Chinese New Year with my family in Malaysia and I guess there's a kinda lump in my heart. Us children would be helping to decorate and clean the house, and I would have CNY music playing in the background. It would be a time of much laughter and joy and I know my parents enjoyed all the hustle and bustle in the house. When we were much younger, I remember helping my mom and grandmother prepare cookies and cakes in anticipation of all the friends and family who would come visit in those 15 days. In fact, for some relatives, that would be the ONLY time we would ever get to see them!

Today, with all sorts of thoughts and memories playing in my mind, I woke up early, got the fish, spring chicken and pork out of the freezer to thaw and proceeded to get ready to prepare a Chinese New Year Eve dinner for David and I. Let's see how it all works out... I hope I make my grandmother, the excellent cook, proud!!

Will try to post some pictures BEFORE dinner tonight!

Traditional Chinese New Year Food
*
Lotus seed
- Chinese food signifies having many
male offspring
*
Ginkgo nut
- represents
silver
ingots
*
Black moss seaweed
- is a homonym for exceeding in
wealth
*
Dried bean curd
is another homonym for fulfillment of
wealth and happiness
*
Bamboo shoots
- is a term which sounds like "wishing that
everything well
"
*
Eggs
-
fertility
*
Egg Rolls
-
wealth
*
Fish
served whole -
prosperity
*
Lychee nuts
- close
family ties
*
Noodles -
A
long life
*
Oranges
-
wealth
*
Peanuts
- a
long life
*
Tangerine
s -
luck


Maybe next year I'll get to drag David home to Malaysia and celebrate CNY at home :)