An Intimate Evening of Grand Illusion
Went for a date with David on Monday to watch the Master himself (
David still maintains Houdini will never be surpassed
). They
didn't allow cameras
/video/audio in the auditorium, and I didn't wanna get into trouble, so I managed to find some
pics online
that were of the show and thought I'd share them with everyone .. they're exactly like what we saw at the show, which was
very entertaining
and
pretty awesome
.
Official Flyer and Abilene Civic Center Auditorium
David Copperfield as I remembered him ( when I was a teen, of course ) - cute, even with the funky Richard Marx hair
Appears on Stage on a Motorcycle!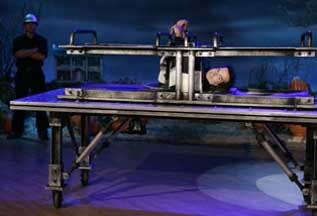 He did all sorts of illusions, using many
audience members
( many whom were planted, I am sure ), throwing out
frisbees
and
balls
and even
pickles
to us to "give the illusion" of randomness..he's a great frisbee thrower if he managed to get them at all his planted audience members...
Squeezed himself
into a tiny space,
disappeared and reappeared
from different parts of the auditorium,
card tricks
with a deadly scorpion, passed
through a sheet of metal
and
transporting
an audience member and him (
with a polaroid picture taken right before "beaming up", of several audience members from that night to vouch for the authenticity of the "beaming uppedness"
) to Perth Australia with Live Feed going on from there....
Also, there was the
impregnating
of a woman on stage without even touching her, and
Webster his duck
was used for several of the illusions but the one that wowed me was when he made a
classic convertible
car appear onstage amidst a dozen witnesses from the audience..
MY David and his brother have attempted to figure out some of the illusions etc, but I REFUSE TO BE DISILLUSIONED!!! ( Pun intended ) I want to remain in awe of magic and continue to be captivated by even the simplest sleight of hand illusions...