We had to flee our house last night,
when there was tornado warning after tornado warning after tornado warning all around us from this humongous thunderstorm.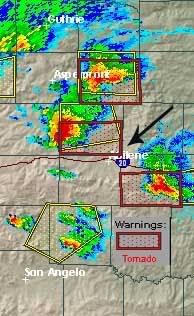 We like to call our present house our "practise house", before we actually build our "real actual final" home if/when we settle in the final place where I would hopefully be practising medicine. So, we bought a double wide and plopped down on our property. Hence, it's not going to be all that safe if a tornado DOES hit, but we are planning to build an underground cellar for that reason.
Anyway, we had to drive over to david's dad's house, about 7 miles away, while we waited out the storm and prayed that our house and
animals
would be safe, and tracking the storm on the computer over at his place.
I don't have screenshots of the tornado warning right over our property because we were over at Walter's and the above was the last screenshot I captured before we got into our car and drove to safety.
Thank God the most there was, was massive rainfall, winds gusting to 45 mph and pea sized hail.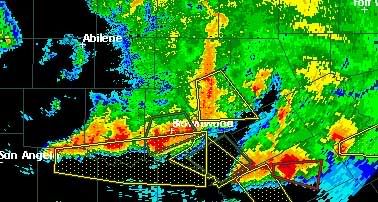 Thank you, Lord.
Update:


Story and Pictures borrowed from Abilene Reporter News Online:
Sunny afternoon turns severe fast
May 6, 2006
Severe weather returned to the region for the third consecutive night Friday. Most of the Big Country was under a tornado watch early in the afternoon. Storms developed just after 5 p.m. and at 6:55, the National Weather Service issued a tornado warning for Callahan County, the first of sixteen such notices also issued for Shackelford, Jones, Taylor, Brown, Coleman, Eastland, and Runnels counties.


Large hail and high winds hammered much of the Big Country Friday night, with threats of tornadoes keeping area residents on their toes.
Despite the threat of tornadoes, most of the volatile activity was in the form of hail up to baseball size, straight-line winds, and heavy rainfall

The Coleman County Sheriff's Office confirmed a brief tornado touchdown near Hords Creek Lake, but damage reports were not immediately available