What is UP with the wind here?!?
We'll let the graphs speak for themselves :


At time of writing, the wind speed has gone to 37 mph and wind gust has gone up to 44 mph. Refer to the
Beaufort Scale
for categorization of wind speeds. We're actually up to Gale force units here where twigs are broken from trees and cars start veering on road.
No wonder Abilene is such the hub for energy companies to build
Wind Power Stations
! Also, Texas has already surpassed California as
top producer
of Wind Energy. (
Average Wind Speed in Malaysia = 6 mph
)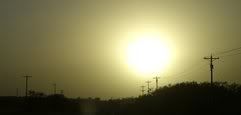 Taken yesterday driving into town - Sun blotted out by sand and dust