I may not receive the Good Housekeeping Seal of Approval for this..
but I did try my best to make some desserts that David wanted and had missed, for Thanksgiving, namely,
Mincemeat Pie
"
like mother used to make
" and
Fried Apricot/Peach Pies
"
like Grandma used to make
". And I'm not a big pastry baking person, nor have I ever attempted these before, so it was very rewarding when they were liked by everyone - well, maybe not so much the mincemeat pie, which is something that's of the "acquired taste" category.
The Mincemeat Pie
David and his mom would be the only ones who would eat any of this when she made it in his childhood. Started off with a jar of NoneSuch ( whoever came up with THAT marketing name, I wonder... I'll have to look it up.) mincemeat filling, and a couple of pie shells from Walmart , and at first it seemed like it would be pretty straight forward - pour the Jar of Mincemeat filling into the pie shell and flatten out another pie shell to cover it.
Till David suggested a basket weave/ latticed top. Google Images very quickly became my cooking tutor for THAT. ( courtesy of
Pillsbury
)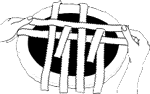 Ta-Da
!!


Er.. not TOO bad for a first attempt at some very tricky dough weaving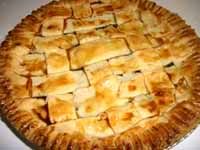 Fried Pies
This one, although pretty straight forward, was kinda time consuming/tedious, but it was all well worth it, to bring back one of the family's treasured traditions.
Part 1:
Mr. Ball of Dough
-->
Mr. Flattened ex-Ball of Dough


Part 2:
Boiled ( Dried Apricots
+
Dried Peaches )
+
Splenda



Part 3
2 tablespoons of boiled fruit in each little flattened piece of dough, fold in half, and seal edges with a little water. Deep fry till golden brown

Part 4
Sprinkle with some powdered sugar and ground cinnamon and TADA!!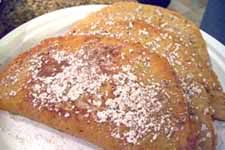 In Loving Memory of David's Mom.
We love you and miss you so much.