It was a wet rainy day today,
but after brunch at
Cracker Barrel
with the boys (
David, Lin, and their dad Walter
), Cindy and I still managed to make a trip to the Filipino Food Store, and visited fellow church members, Kay and Elvis Istre's house to catch a glimpse of the Christmas/Winter Village that he puts up every year in one of the guest rooms. Simply amazing.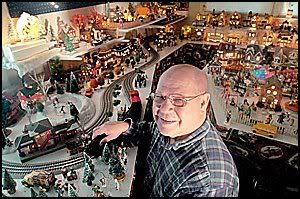 (photo above from Abilene Reporter News)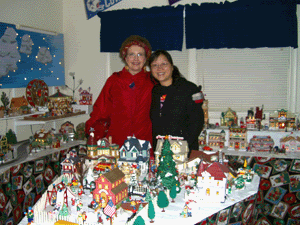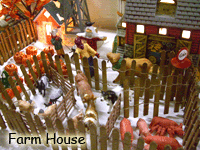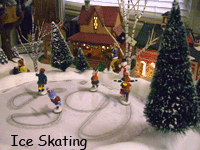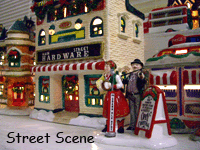 Here's the newspaper article about the Istres' Christmas Village in the Abilene Reporter News on Dec 19th 2006
Christmas 'village' adorns Abilenians' home
By Jamie Busen / busenj@reporternews.com
December 19, 2006
There's a transformation each holiday season that happens at Elvis Istre's house.
Out go the twin beds and other furniture in his guest bedroom. In goes the Christmas village he's been working on for about 20 years now - complete with skaters, fireworks, a Ferris wheel, a train, a Wal-Mart, hunting lodge and much, much more.
''It's like a room full of memories,'' said Elvis' wife, Kay Istre.
Both Istres, who now make Abilene their home, are retired elementary teachers from east of Houston. Elvis Istre began building the village little by little after his son purchased him a train long ago. It used to run around their Christmas tree.
''I was tired of getting down on my knees,'' Elvis Istre said with a laugh.
So the village evolved into the spare room. The furniture goes into the garage, and the village boxes into the shed. Istre works on it a little each day starting in September, and it usually stays up until around February. The couple's five grandchildren - all under the age of 10 - enjoy it immensely.
''They say, 'Pa King, can we go to the train room?''' said Kay Istre (Pa King being a reference to ''the original Elvis'').
When Elvis Istre was teaching, he'd come home sometimes with a ''fifth-grade headache.'' Building the village was a way to relax, something he says still rings true today.
''It totally calms me,'' he said.
The village is quite detailed. From the virgin-white snow on the trees to the ''pop'' of the fireworks, it's a collection of items the couple have purchased on their travels, as well as gifts and items from Department 56, which designs and sells collectibles.
There is a Cracker Barrel next to the Wal-Mart, complete with overnight campers out front. There are children laughing on a merry-go-round. There's a lumber yard, hunting lodge and ''the neighborhood where the rich people live, with their country club.''
Istre estimates he has around 75 lighted houses/buildings, dozens and dozens of people figurines and about 50 ''novelty'' items like the lighthouse, water fountains and ponds. He had to leave a box of his collection unpacked this year; he's running out of room.
''This brings a lot of joy to me,'' he said.
The couple has a lot of friends who enjoy stopping by and seeing the seasonal village each year. The Istres say it looks better at night, when all the lights in the ''sky'' and in the village can clearly be seen. And it will always remain a holiday village.
''It's not as special if it were up year-round,'' Kay Istre said.
EDITED BY: LORETTA FULTON; COPY EDITED AND HEADLINE BY: JEFF WOLF