Just catching up on stuff I've been up to

Single Seniors' Christmas Dinner
Dec 2nd, 2006



Walter invited us to go along with him, Cindy & Johnny to the Single Seniors' Christmas Dinner, sponsored by Hillcrest Church of Christ. There were about 10 - 15 tables of 10, I think, and each table had been decorated by a church member with a specific motif, so it was all very grand and 'banquet'y. And the icing on the cake, literally, was the dessert : Molten Lava Chocolate Cake. Simply scrumplicious.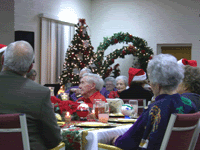 Silver Spurs Gun and Blade Show

Dec 3rd, 2006



I was just thinking yesterday, as I was walking around so many cowboy-and-cowgirl types, that being in Texas has allowed me to experience the SouthWest up close and personal, southern hospitality and warmth, the very unique southern accent, and all that southern comfort food.