David's Dad had such a wonderful time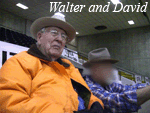 at the
Cutting Horse Event
we brought him to yesterday, at the
Taylor County Expo Center
- and reminiscing about his ranching days, that he didn't even realise it when almost 2 hours had passed and it was dinner time!
Well, one of the reasons too, was that we had had New Years' lunch at Cindy's,
southern style
, and I had made 2 chocolate meringue pies - one for everyone for dessert, and one for him to relish at home. *hehe* And he had 3 slices after lunch!!
The events are broadcast live over the internet Jan 2nd to 13th, so for those interested, you can catch a
live webcam feed
HERE
.. Or you could listen to
audio feeds
HERE
.
14th Annual Abilene Spectacular Cutting Event
January 1st 2007