Abilene has a lot to offer too ...
David and I attended a poetry reading last month and a production of "The Miracle Worker" just last weekend.
Donald Hall
Current and 14th Poet Laureate of the United States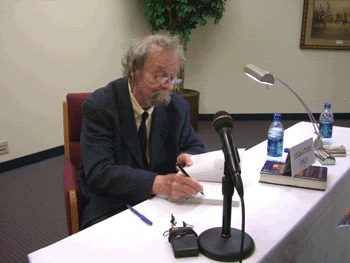 Hardin Simmons University,
Abilene, Texas,
Monday, Feb 20th 2007
We could not pass on meeting the
Poet Laureate of the United States
, no way.
He was scheduled for both an informal question and answer session in the afternoon as well as a
Poetry Reading
at night. We did not make it for the afternoon session, but made sure we were there for the Poetry Reading and book signing later that night.
I actually enjoyed the session way more than I thought I would, and although he was seated down (
the man's almost 80!
) for the entire session, and I had several people blocking my view of him reading, I could "
feel
" his words, especially when he read poems about his late wife, poetess Jane Kenyon. There were solemn poems, funny poems, poems of his childhood, and many others, but all heartfelt and read with much emotion, and character.
The Miracle Worker
Abilene Christian University Theater Department
Fulks Theater
Abilene Christian University
Abilene, Texas
Thanks to Svjetlana, David and I got to watch the ACU production of The Miracle Worker on Friday night, in the cozy Fulks' Theater. The set had a rotating stage piece of many levels to indicate the different parts of the house, as well as interesting use of props. The students, especially the girls playing the lead roles, were excellent in their parts and all in all, it was a very enjoyable evening.
From the ACU website :
The Miracle Worker
By William Gibson
Directed by Ryan Massie
The dramatic story of Helen Keller's heroic struggle out of silence and darkness. A severe fever at a young age left Helen Keller deaf, blind and unable to speak. Fiercely strong, but scared out of her wits, she clawed and struggled against all who tried to help her. Annie Sullivan, half-blind herself, but blessed with fanatical dedication, began a titanic struggle to release the young girl from the terrifying prison of eternal darkness and silence.
"The LORD thy God in the midst of thee is mighty; he will save, he will rejoice over thee with joy; he will rest in his love, he will joy over thee with singing."
Zephaniah 3:17