We went to Munday on Sunday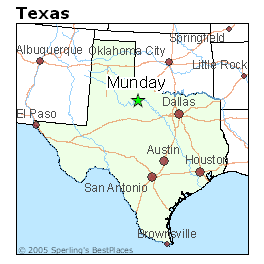 Munday
is a little town with a population of about 1,500 in north-ish
Texas,
where David's niece, Sabrina, her husband Todd, and their two children moved to, late last year. It was a career move for Todd, for it meant a promotion to be Principal at the
Elementary School there
. Sabrina is also a teacher and now teaches in the same elementary school. It certainly is quite a change from Abilene, which has a population of about 115,000.

The first thing that caught our eye as we rolled towards town was the underpass that led into town. It has murals etched in the sides of the walls of the underpass on both sides. On one side was the American Flag, and where the stripes were, there were silhouettes of the townsfolks. The developers of the underpass had taken photographs of the inhabitants of Munday earlier and had done the flag as a tribute to the townspeople.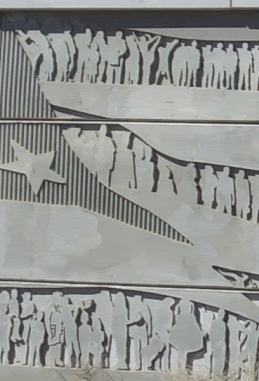 On the other side of the underpass was etched a cotton field with a big cotton ball.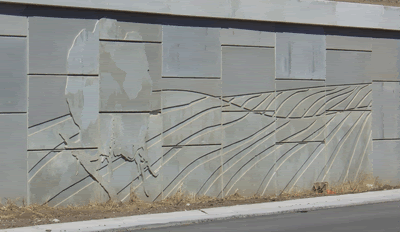 Munday is a quaint little town which is undergoing a "beautification campaign" and this could be seen especially on Main Street, where the sidewalks had been redone, and some buildings restored.
More photographs of Munday
HERE at the photo blog
.
The church where we attended service was small but cosy, with pretty stained glass behind the pulpit. Sabrina and Todd had bought a 100 year old house just in front of the church, which they had been working hard at restoring. We took a peek inside after service and it was a beautiful house! David and I are very jealous of their porch-turned-sunroom.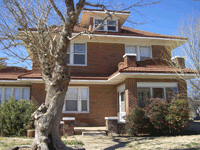 After that sweet trip, we were driving home when we saw some
smoke
rising into the sky from a long way away, and in the general direction that we were headed home to.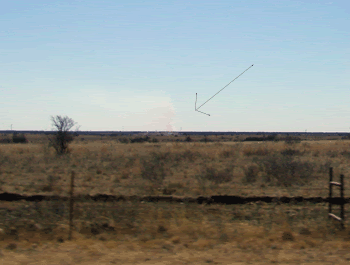 You can imagine the panic rising in our chests as, instead of moving away from the smoke, we somehow seemed to keep driving towards it, until when we finally got home, THIS was how close the fire was. ( That's our
Airstream
in the foreground, and house on the left ) We were almost freaking out by that time, and I had been praying silently but rather furiously.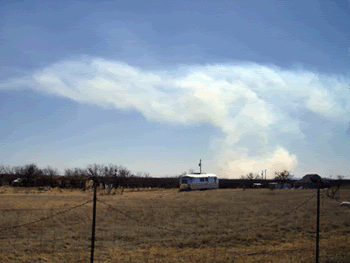 It was still quite some miles for us, and as it turned out, when they had a piece on it on the news later that night, that it was a "
controlled burn
". Thank God! But man, did they scare us silly.
"And my people shall dwell in a peaceable habitation, and in sure dwellings, and in quiet resting places;"
Isaiah 32:18