David says it helps me be a more empathic doctor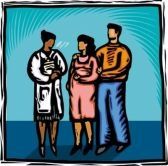 when I have to go through what my patients went through with me. That's exactly what happened this afternoon when we arrived at the doctor's office for my first prenatal visit. So far, I had always been the doctor, with men and women getting into all sorts of positions for me to examine them, and i would be examining all kinds of private bits without giving it a second thought.
SO, it was quite the experience when I had to "assume the position" for the OGBYN this afternoon, for her to examine me and do the ultrasound etc. Anyway, it was a relief for me to know that the baby was doing well with a strong heart beat, and was where it was supposed to be, instead of in the tubes or somewhere it was NOT supposed to be.
Also, apparently I had ovulated later than I had thought, and the ultrasound showed that the baby was actually a week behind what we had initially thought. So now I have to go through week 8 all over again. *smiles* David said "Uh oh, an extra week of morning sickness than what we had thought". *sigh* But he was just thrilled and in awe and blown away, especially when we heard the baby's heartbeat for the first time. He was quite the proud papa. :)
Anyway, we present to you the first pictures of our little preciousness at 7 weeks and 6 days
Crown Rump Length measuring 1.55cm,
corresponding to 7w6d

A Strong Heartbeat at 173 bpm