But lately, much more than in the recent years,
I've had a hankering for Malaysian or South East Asian food. ANY Asian food, I guess. But Malaysia, being multi cultural, means I have a hankering for
Malay, Indian AND Chinese food
...And I don't mean the type you get from the Chinese Buffet place either.. Those are kinda too fakey and "westernised" tho.
From the simple ones like
nasi lemak
/coconut milk rice to the more exotic like
Fish Head Curry
, or even just plain ordinary economy noodles ( not Ramen ),
mamak mee goreng
( fried Indian noodles ) and sooo many others.. I'm making myself depressed just thinking about it. I'm blaming it on the pregnancy hormones.
Furthermore, it's the fasting month for the Muslims back in Malaysia and there is usually no lacking of food bazaars or stalls that are set up that sell the most amazingly varied and delicious food for the breaking of fast at the end of the day. ARRRRGGHHHHHHHHHHH. Now if only I were a better cook when it came to my own native food.
Anyway, Abilene may have several universities with international students, but somehow the availability of international foods is kinda well, pathetic. That's why I love love love the Cambodian noodle place down town ( YUMMM ) and the little Filipino Store that I go to every Friday. They had just changed management and now have a bunch of new stuff and every Friday is market day, and so I get to get my fill of several kinds of Asian vegetables.. *sigh*
Anyway, one of my recent finds there was the
Char Siew Pao or Chinese Steamed Bun with Meat Filling
. That is such simple everyday, anywhere kind of food back home, but I had yet to have one pass through my lips since I got here. After I had followed the instructions and brought it back to life from its frozen state, and took a bite into it, oooooo.. it was literally like how some people describe things as .. "like coming home again"..
There were 4 Paos in the package..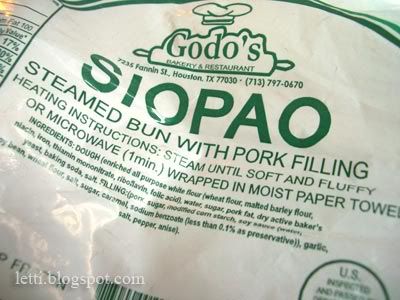 Frozen and saran? wrapped Pao waiting for me..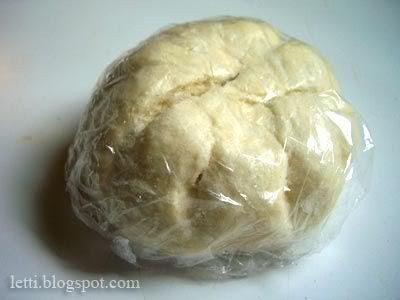 After being heated up in the microwave for a minute, wrapped in a paper towel.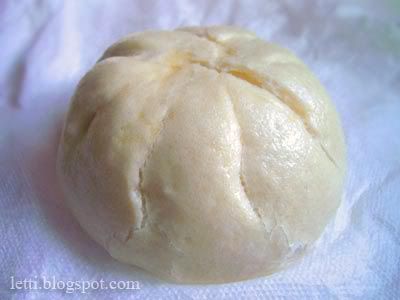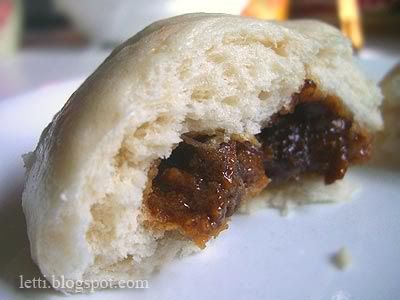 I guess it would be kind of like if an westerner was abroad in someplace where there was no "authentic" western food but only the local fare, and then after 5 years, came across a cheeseburger and fries or something :P