It's been a busy day.
It was my birthday, David's first Father's day, David and my anniversary, and it'll be David's birthday tomorrow.
PLUS, Jaxon, along with his grandad and cousins, were on the front page of the Abilene Reporter News today!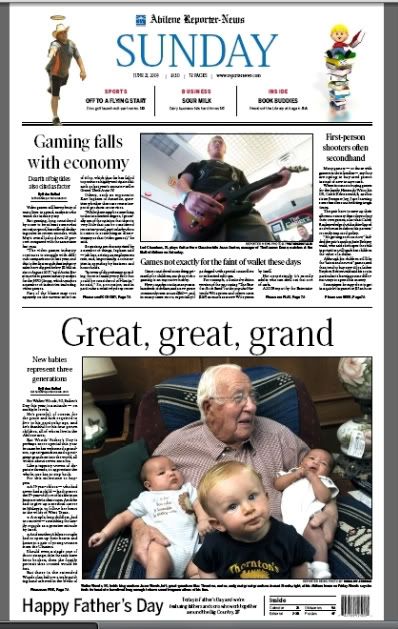 Also, Judith babysat Jaxon while we had our anniversary dinner at
Abuelo's
, a tradition for us on our anniversary. That was the first time Jaxon was in someone else's care other than David or myself, without us present. I was missing my little baby even before we reached Judith's to drop him off.
It was strange to sit in the front seat again after almost 3 months, as we drove there, and to be on a "date" that was just the two of us. Of course I was suffering from separation anxiety, but had a wonderful time just hanging out with my lubby hubby for a couple of hours.
Thanks Judith! You're a doll :)