SOMEONE turned a ripe old age of 5 over the weekend, and we had been celebrating just about all week.
Earlier in the week, I had to get my "baking legs" back, and experimented with tinting some icing and whatnot, and so I used half a cake mix and came up with an Om Nom cake :)
I have never used fondant and was not about to start anytime soon, and so I did the best I could with tub icing, food coloring and decorating icing.
Birthday Celebration Part 1
Like the years before, the ladies at Bible Class helped the little boy celebrate his birthday as well.
He had decided a few weeks before, that he wanted a Mario Bros themed birthday cake, and so I started a
Pinterest board
to consolidate some ideas. I knew I would have to come up with at least THREE cakes, because we were celebrating with different sets of people.
The first one was fairly easy - 2 round cakes and a few cupcakes - and a little bit of mediocre piping skills :).
The little boy was quite thrilled :)
Birthday Celebration Part 2
The next day, we celebrated with the family and some friends at Mamo's house. It was such a beautiful day and everyone had a great time in Mamo's back yard.
I just love seeing Jaxon and his cousin Max together. They are just 6 months apart, and so Jaxon loves playing with him.
As usual, we celebrated with delicious pizza from Sam's. Mamo made some salad and Cindy brought fruit.
I told myself that I would make it a tradition to make number cakes every year as one of the birthday cakes, and so this time it was figuring out how to incorporate a Mario design into the number.
This is what I came up with.
I had ordered a set of little Mario figurines off of ebay, and thank goodness they got here on time.
The young cousins were also Mario fans, and so it was definitely wonderful to see the boys excited over the cake....
which, by the way, had a surprise hidden in it.
It was RAINBOW/TIE DYE cake :)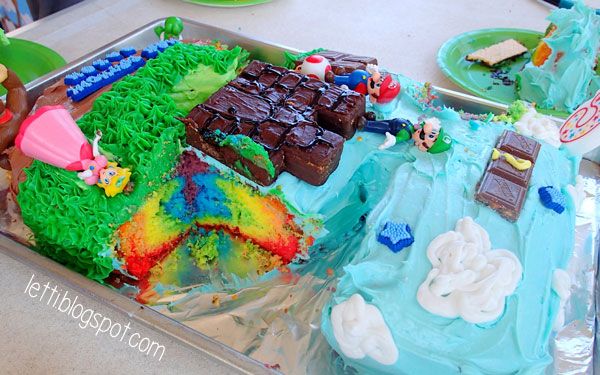 Birthday Celebration Part 3
We celebrated this one at home, with just the little boy, Daddy and me :)
I had some leftover chocolate cake mix, which I used to make mini cupcakes, and just spread icing over the top to make Toad from the Mario games.
Yes, we are now officially 5 :)
Where has the time gone?? :)