Judith's family meets at McDonald's..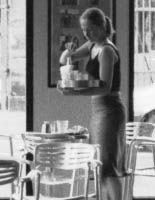 on Saturdays as a weekly family gathering thing. I've joined them a few times and the first few times after breakfast, as we were leaving, I would walk ahead towards the door and notice that there wasn't anyone next to or behind me. I look back and they're clearing the table.

This is known as bussing ( or busing )....and at places where there isn't any table service, like at fast food chains and food courts, it would be a social obligation to clear up your own mess.

Bussing basically involves removing used dishes and utensils from the table and dumping them in prepared bins. In classier establishments or eateries where there are waiters, you probably aren't expected to do any of that, and the waiter does the bussing...but it involves leaving a tip..which I would leave for a later post.
Malaysians don't really have the bussing concept ingrained in them, quite the opposite of over here in the States/the West, but it didn't take me very long to be making a conscious effort to remember to do that in order not to look too much like a spoilt brat.