Cinnamon Spiced Chicken
Here's sharing a recipe I got from
Kitchen Capers
..my first attempt at roast chicken.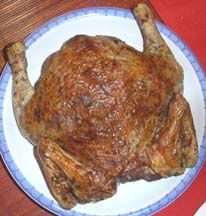 Ingredients:


1 spring chicken
1.5 tbsp ground cinnamon powder
1 tbsp sugar
1 tbsp olive oil
1 tbsp Dried Dill leaves
Method:


1. Marinate chicken with all the other ingredients for 20 mins.
2. Preheat oven at 200C for 10 mins.
3. Roast chicken in oven for 25 mins.
4. Turn over every 10 mins.
5. Serve hot!
The taste of the cinnamon, dill and sugar was really subtle but yummilicious. I used a convection microwave oven on CompuRoast ( I know I'm pampered that way ) and it roasted for about 40 minutes. David gave it 2 thumbs way up.

Happy Cooking!