Americans love their sports
The NCAA ( National Collegiate Athletic Association ) men's basketball tournament, which started last weekend, is colloquially known as "March Madness" where 64 leading college basketball teams get together and fight it out. For three weeks in March and the first week of April, the tournament pretty much enjoys the undivided attention of sports fans everywhere, David included.

The Tournament has its own
unique lingo
in that other than round 1 and round 2, the teams will go down to the "
Sweet 16
", "
Elite 8
", "
Final Four
," and the "
Big Dance
."

Apart from the frenzy it ignites among sports fans everywhere, the Madness also refers to the amazing amount of
gambling
that happens where many people enjoy predicting the outcome of the tournament in the shape of, among others, office pools and world wide online gambling.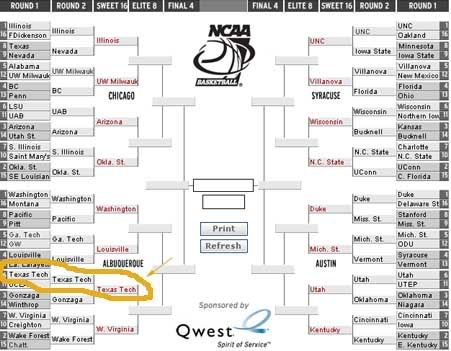 This year, it's even more nerve wrecking because David's alma mater Texas Tech ( where he studied law ) is in the "Sweet 16" and will meet W. Virginia to battle it out to be in the "Elite 8" tomorrow..