That's my nickname for Henry.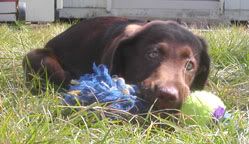 It used to be, I kept him in
his crate
almost all the time when he was younger..but he's a
big boy
now at about
3 and a half months
, and the "accidents" in his crate are getting less. The trick was having to bring him out every 2 - 3 hours to "
go peepee
" and twice a day for "
poopoo
" - after his morning and evening meals to get him into a
routine
and realise that the
toilet was OUT of doors
.
Is there a point to all of this ? Just be patient....
It's getting to a point now where I
let him out
of his crate
more often
and for
longer
periods of time, and nowadays, he will look at me all funny and start walking towards the
back door
when he feels the need to poop.
This morning, I wake up way earlier than usual -
at dawn
- and go through the usual motions with Henry...then he starts motioning towards the door. I let him out and he gets into the "
position
" when i notice
STEAM
rising up from where his bum was!!
Okay, before you start rolling your eyes at me, remember that
1. I have never had a dog
2. I have never brought Henry out at dawn
3. I have never lived in a country where the temperature went below 72F/24C
It took me a second to realise that it was just warm puppy poop on a cold cold morning..